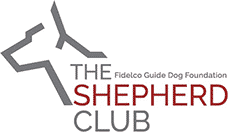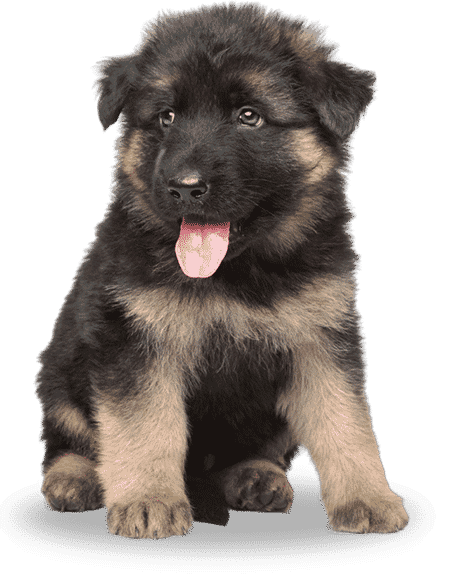 Join Our Pack and Help Us Fund a Litter
The transformation of energetic German Shepherd pups into trusted guide dog partners takes two years, thousands of hours, tens of thousands of dollars – and many caring people. Fidelco guide dogs are given at no cost to our clients who are blind. Each litter of puppies requires a new cycle of care and training on their journey to becoming guide dogs that will transform lives.
When you join the Shepherd Club, Fidelco's monthly giving program, you will receive:
Exclusive access to the "Kennel Cam." Watch puppies and dogs as they play, train, learn, and grow in Fidelco's Pup House, Kennel, and enrichment areas.
Biannual updates detailing how your donations are making a difference.
Recognition in FidelcoNews, our widely distributed newsletter.
Shepherd Club members will also receive fun Shepherd Club stickers featuring Fidelco pups and dogs – for you to show or share.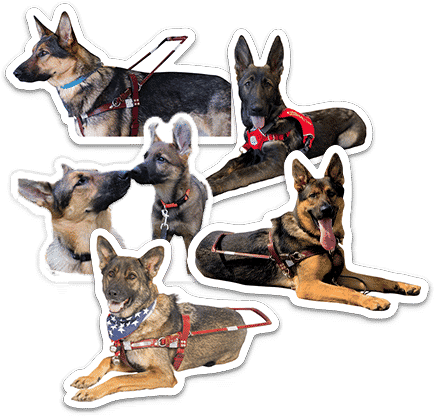 Please join the Shepherd Club today to ensure the cycle of breeding, raising, training and placement of Fidelco German Shepherd guide dogs continues.
When you join, you'll receive fun Shepherd Club stickers featuring Fidelco pups and dogs!
The Journey From Pup to Guide Dog Partner
There are many stages, seasons, and people involved in the specialized care and training of pups on their journeys to becoming guide dog partners.
1. Birth to Eight Weeks
New pups spend their first weeks in the Pup House receiving round-the-clock care. At three days old, pups begin early enrichment, gradually exposed to different sights, sounds, textures, and toys as they explore their world.
2. Eight Weeks to Three Months
At 8 weeks old, puppies are welcomed into the homes of Volunteer Puppy Raisers, who provide pups with training, socialization, patience, and a lot of love – all essential to developing confident and stable guide dogs.
3. Three to Six Months
Pups are learning basic commands and early guide skills including walking properly on their human partners' left side.  Pups who pass their first evaluation walk earn their "red vest," allowing the pup to accompany their Puppy Raisers into public buildings.
4. Six to Nine Months
For their socialization, pups are introduced to many situations – to see, hear, and smell new people, animals, places, and objects. Pups and their Puppy Raisers attend weekly classes, led by Fidelco staff, building a solid foundation for pups' training toward becoming guide dogs.
5. Nine to Twelve Months
The highest quality of veterinary care and nutrition ensures the health and well-being of each puppy, to make each guide dog partnership as healthy, safe, and enduring as possible.  From birth, pups receive regular checkups, preventative meds, and immunizations from the Vet-Med team.
6. Twelve to Sixteen Months
Before young dogs return to Fidelco's campus for formal training, Puppy Raisers help pups gain comfort and confidence around everything from vacuums, stairs, other dogs, parks, schools, stores, and many other real-world settings.
7. Sixteen to Eighteen Months
Young dogs begin their intensive training with expert guide dog trainers. Pups now have a strong foundation of basic commands and good manners, enabling guide dog trainers to focus on advanced guide skills:  maintaining a steady pace, stopping at curbs, turning left and right, moving forward and stopping on command, and recognizing and avoiding obstacles.
8. Eighteen to Twenty Four Months
Young guide dogs-in-training go out each day with their trainers, traveling and walking in local towns and larger cities, subways, train stations, airports, college campuses, office buildings, elevators, and other environments a guide dog must safely navigate as a guide dog partner for a person who is blind.
9. Twenty Four Months – Placement
What was once a tiny pup from a new litter is now a confident and skilled guide dog. Each Fidelco guide dog will provide years of life-changing safety, mobility, and independence to a person who is blind. After placement, Fidelco will provide 24/7 support and annual in-home visits for the lifetime of the partnership.
Becoming a member of the Shepherd Club by providing sustaining monthly support is one of the most powerful ways you can ensure Fidelco's mission of providing guide dogs to people who are blind never stops.
A monthly donation of any amount will help to secure Fidelco's future and transform the lives of our clients. Thank you!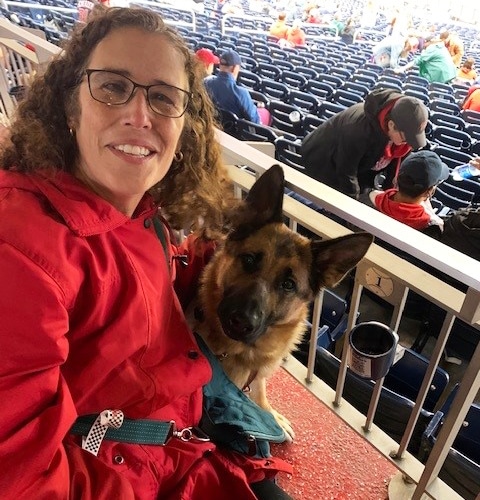 I have always been independent. Having a guide dog for me brings a sense of security, stability, and reassurance. I feel safe. Keela has guided me everywhere I have needed to go.
I would like to acknowledge the Puppy Raisers and trainers who helped to prepare Keela for placement. The amount of work and countless hours that went into training Keela to be such a perfect match for my lifestyle shows.
- Marién H., Fidelco Client