Puppy Raisers take our pups at about eight weeks of age. They love and care for them. They participate in weekly classes at our Fidelco training center. Then, when the pups are approximately 14 to 16 months old, they return them to us for formal guide dog training.
Hundreds of families and individuals have participated in the Fidelco volunteer puppy raiser program over the years. They expose the pup to a wide variety of experiences in the home, on the street and in the world at large - the very things that the dogs will be required to handle as a guide for someone who is blind or visually impaired.
(This is NOT for prospective clients interested in a guide dog partnership and NOT for pet dog adoptions. Volunteer Puppy Raising, puppy sitting and breed care giving ONLY. Thank you.)
FAQ
Taking an eight-week old Fidelco puppy into your home is both thrilling and nerve-wracking (at least for the first few days). Here are some frequently-asked questions about becoming a Fidelco puppy raiser.
Ideal homes are those in which the entire family or significant others are enthusiastic about raising a Fidelco pup. Whether you are single or married, with or without children, live in a household with pets or a lack thereof (all dogs in the home must be spayed/neutered), your home is an appropriate setting for a Fidelco puppy. You must have enough time to spend with your pup; including walking it, taking it out into the world and teaching it good manners. The duties can be shared with every member of the family.
We exclusively breed, train and place German Shepherd guide dogs because of their stamina, health, temperament and intelligence. Our puppies are continually evaluated from birth to give them the best possible chance to be successful as Fidelco guide dogs.
Our pups are placed in puppy raiser homes when they are approximately eight weeks old. We do our best to match the pup and the family or individual to make sure that the experience is positive and rewarding for both.
We'll be with you every step of the way! Fidelco's program teaches and guides you on the concepts and practices of puppy rearing. You and your pup will attend Saturday classes at Fidelco. You will teach your pup good manners and expose it to a variety of situations designed to "socialize" the pup as it matures and becomes a Fidelco Guide Dog. Housebreaking, basic obedience, car rides, frequent walks and trips to public places are all part of your time together. We count on you to keep our pup safe.
The pups are an average of 14 months when they enter formal guide dog training, but there are times when a puppy raiser may be asked to keep his or her pup for a longer period of time.
You'll be sad to see them go, but you'll have the comfort of knowing that you've helped prepare our pup for a lifetime of service. When the pup returns to Fidelco, it enters a six to nine-month formal training program. You'll be invited to participate in a graduation walk once the pup has passed a certain training point. You'll also be given the option to one last visit with the dog you raised before it partners with a Fidelco client. If it is determined that a Fidelco dog is better suited for our breeding program or is unsuitable as a guide, Fidelco has sole judgment as to the dog's final placement. We ask for your understanding in this decision, but you have the option of a final goodbye visit. Once the dog is placed with a Fidelco client, you're given a photo of the dog in a guide dog harness.
Fidelco has responsibility for worming, vaccinations, monthly preventatives and other veterinary expenses. Healthcare is provided at our training center in Bloomfield, CT and Wilton, CT. We'll supply you with a crate, a training collar and instruction. Food must be obtained from Fidelco. Expenses related to the care and raising of the pup are deductible to the extent allowed by law.
Simply fill out our online Volunteer Application and join us for our next Fidelco Insights.
We'll review your application and contact you. When becoming a puppy raiser, puppy sitter or breed care giver, there are certain requirements that must be met first: two visits to our Saturday classes, attend Insights and Orientation, submit a background check, have a home visit with Puppy Raiser staff and come to Bloomfield for pre-placement class.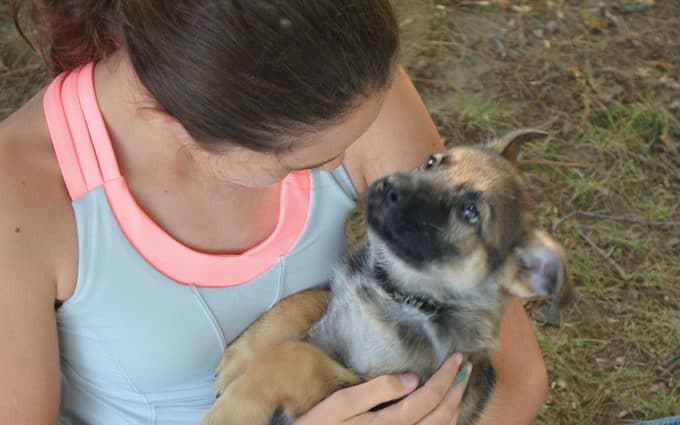 Testimonials
Fidelco puppy raisers are the first, important influence in the lives of our Fidelco pups. Without their love, dedication and patience, we could not produce the quality of guide dog that is a hallmark of Fidelco. Read about some of our puppy raisers and our clients in their testimonials.
Testimonials
"Being a puppy raiser has taught me that "Milo" and Fidelco are part of something bigger and our role as puppy raisers is to make sure that these dogs are able to fulfill their mission to light the way."
Liam
"This experience has been more fulfilling, challenging and rewarding than either of us could have ever expected."
Danielle and Jason
"We recommend everyone raise a puppy. It's fun; it's a real commitment, but very rewarding."
Bill and Jeanne
"Knowing the tiny puppy I bring home will one day change someone's life is extremely gratifying."
Kristine
"Since I became a volunteer puppy raiser it has changed my life. It has taught me about responsibility, unconditional love, and at the same time I am working towards helping to make a difference in someone's life. And for me that is the most important."
Gianna
Volunteer Puppy Raiser Resources
For our existing Puppy Raisers, click here for helpful resources including skills training videos, year-round photo submission portal, and more.
If you have additional questions, please call us at 860-243-4047 or e-mail us at puppyraisers@fidelco.org. Thank you for your interest in the Fidelco Volunteer Puppy Raiser program.