Volunteer Puppy Raisers: The Furey Family
Fidelco's incredible community of Volunteer Puppy Raisers provide a loving environment, early training, and socialization to our pups. When puppies return to Fidelco's campus for formal guide training at about 16 months old, they have a strong foundation of skills and socialization.
Evie and Mike Furey say puppy raising has worked for their family, in large part because of Fidelco staff and volunteers ready to lend a helping hand. "Fidelco's trainers have been so accommodating. When there have been any special questions or issues, they have come to our house. If we need to take time away to visit family or friends, there are volunteer puppy sitters available to look after the pup," Evie shares.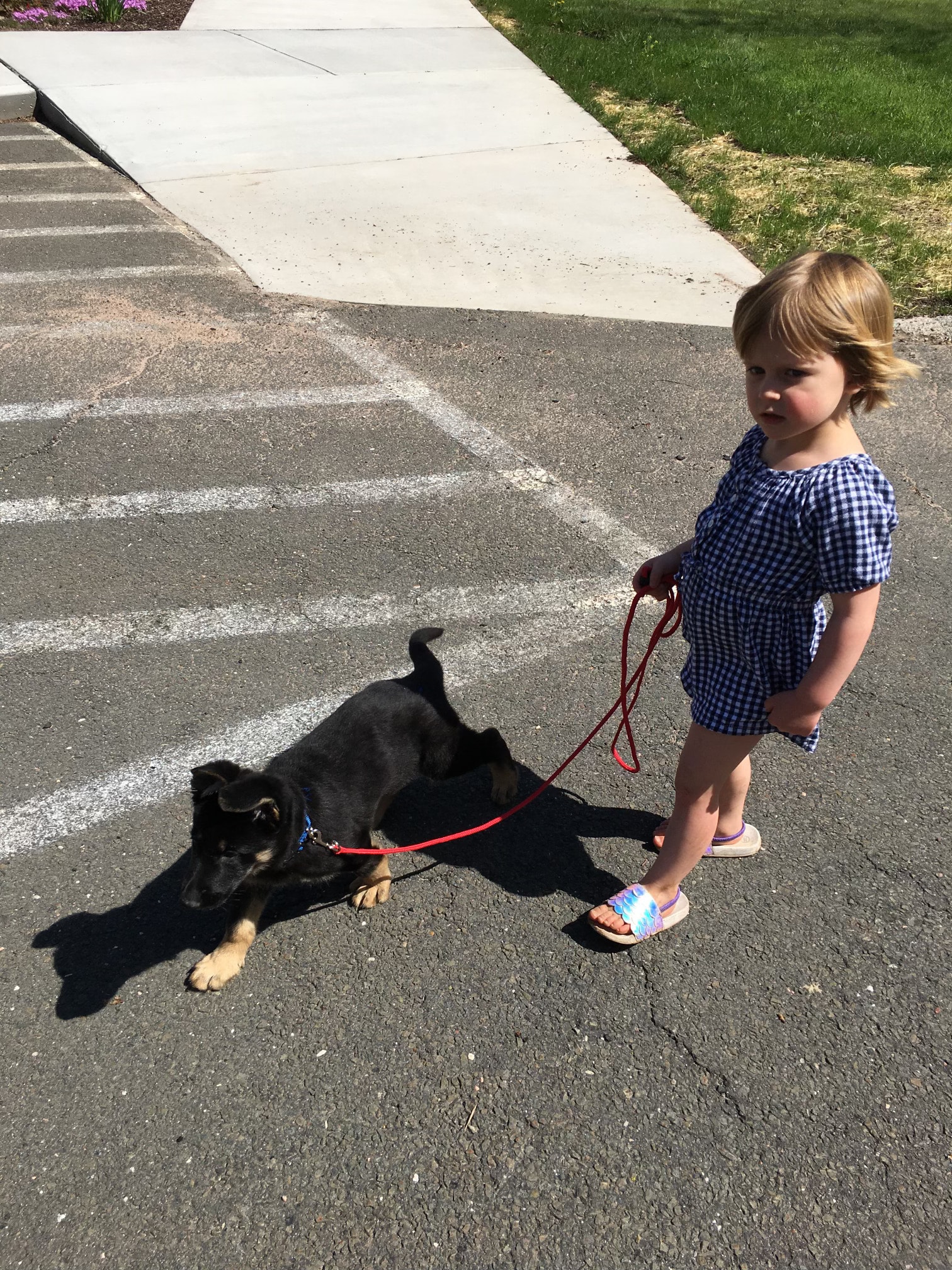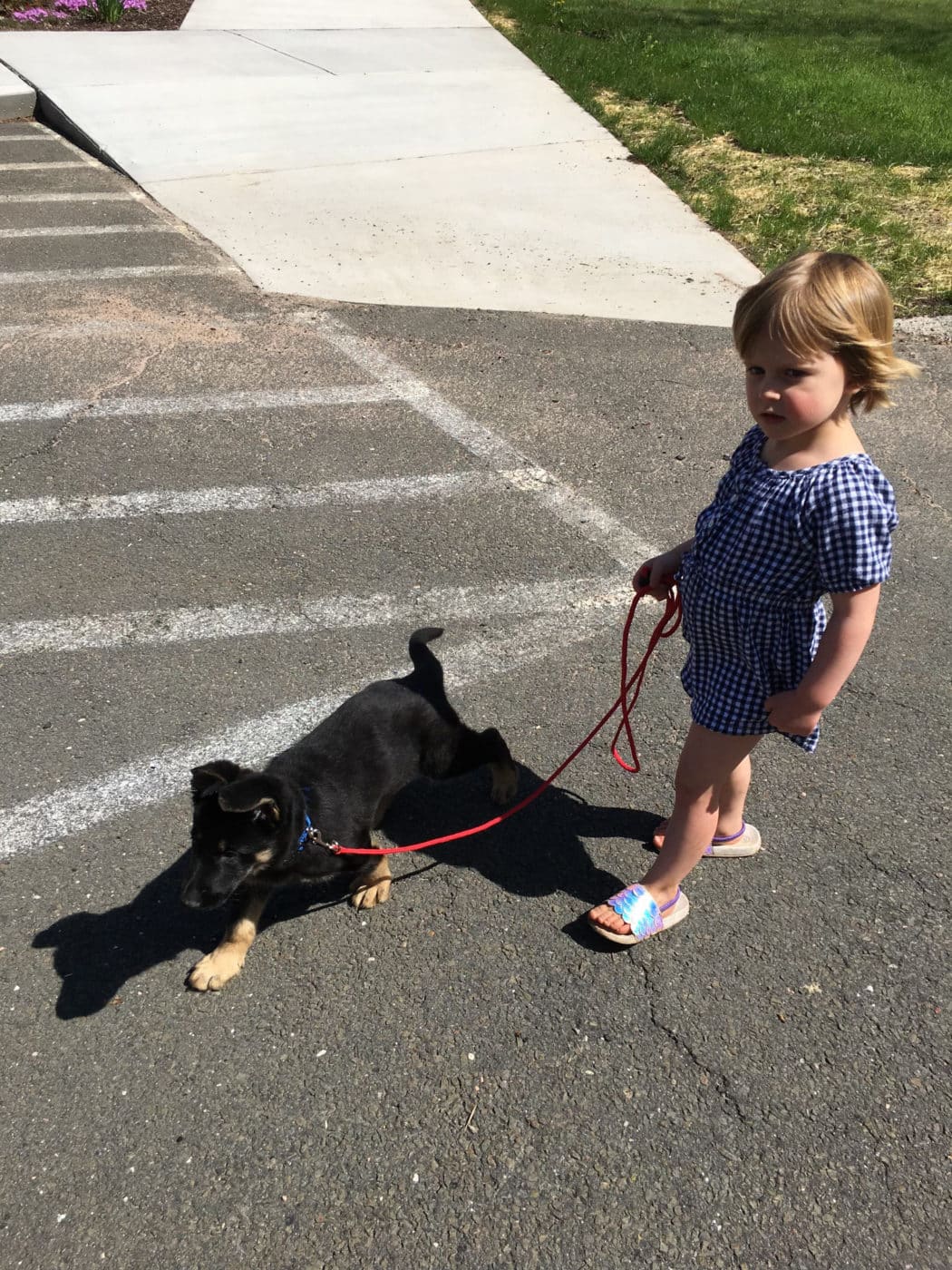 Evie is a Teacher of the Visually Impaired (TVI) and a Certified Orientation and Mobility (O&M) Specialist. She works with children and young adults, from birth to age 22, and teaches children who plan to have a guide dog when they are older. In 2020, the Fureys decided the time was right to become Puppy Raisers for Fidelco.
The Fureys received Fidelco pup, "Evrest," in May 2020. Fourteen months later, Evrest was ready for her formal guide training. Without skipping a beat, a few days later the Fureys received pup "Scooby." Throughout their time as Puppy Raisers, Mike and Evie have shared the experience in ways that benefit others.
As a TVI with the Children's Services Program of the State of Connecticut Bureau of Education and Services for the Blind, Evie travels to students' homes and classrooms. In 2020, when schools shifted to remote learning, one of her students was struggling with distance learning. Evie recalls introducing her student to Evrest. "At first, she didn't really like dogs. But Evrest was so sweet and Fidelco dogs are so special, the student really connected with the pup and Evrest helped calm her. She still asks about Evrest and says she would like to have a guide dog when she is older."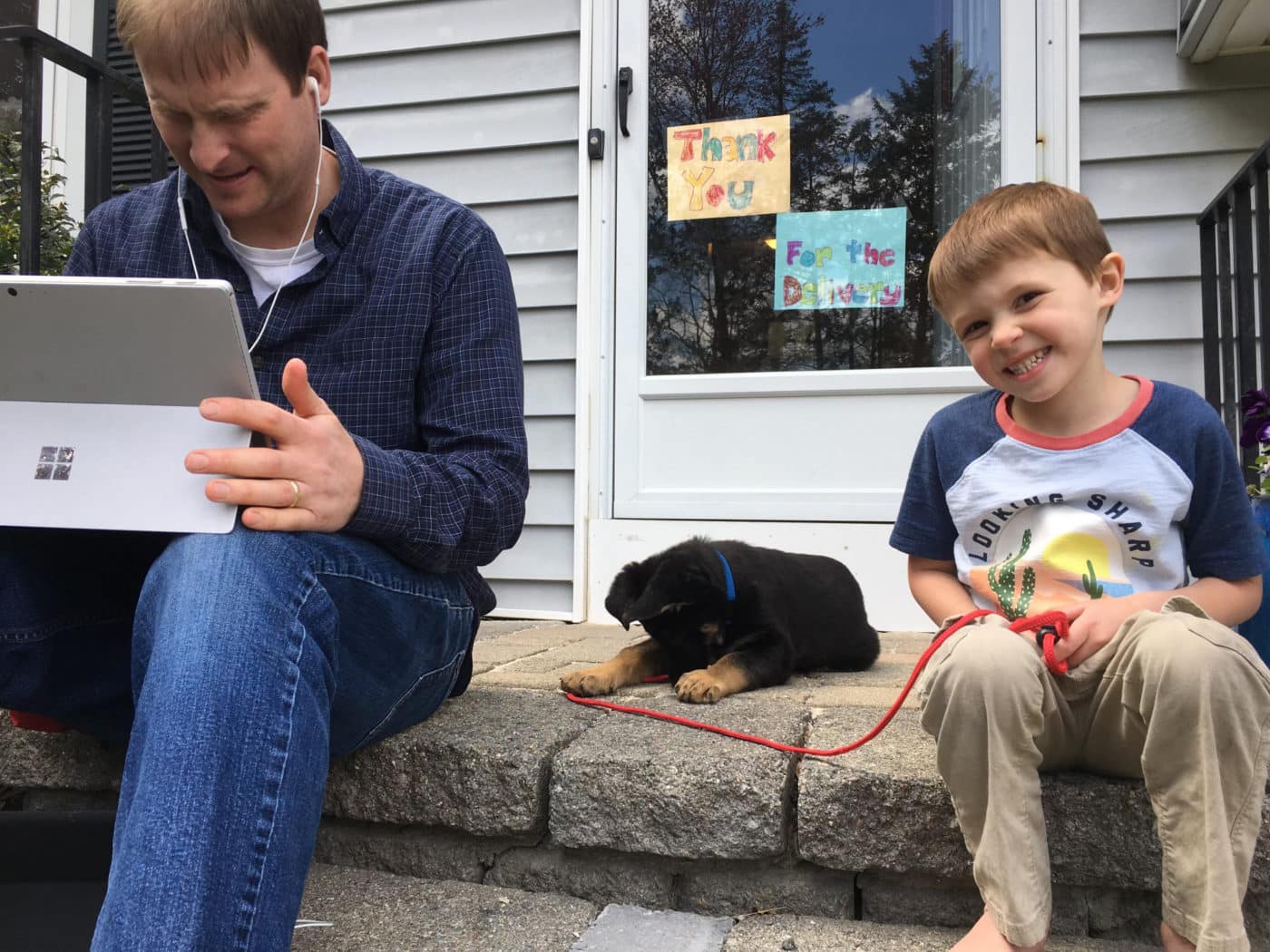 Mike is a Counselor at Canton High School in Connecticut. He has brought puppy raising into his school community—creating valuable socialization and training opportunities for Evrest and Scooby and building positive connections for students and staff. "During morning greetings," Mike says, "Scooby and I say 'hi' to everyone who walks into school. It's been awesome. His presence helps both students and staff. They love starting their day greeting Scooby, walking him during study hall, or just hanging out with him."
Mike cites the mental health benefits of having a pup in the high school halls and in his office. "Scooby's supportive of students. If a student is in my office and upset about something, Scooby lies at their feet. It tends to do the trick to help them feel better."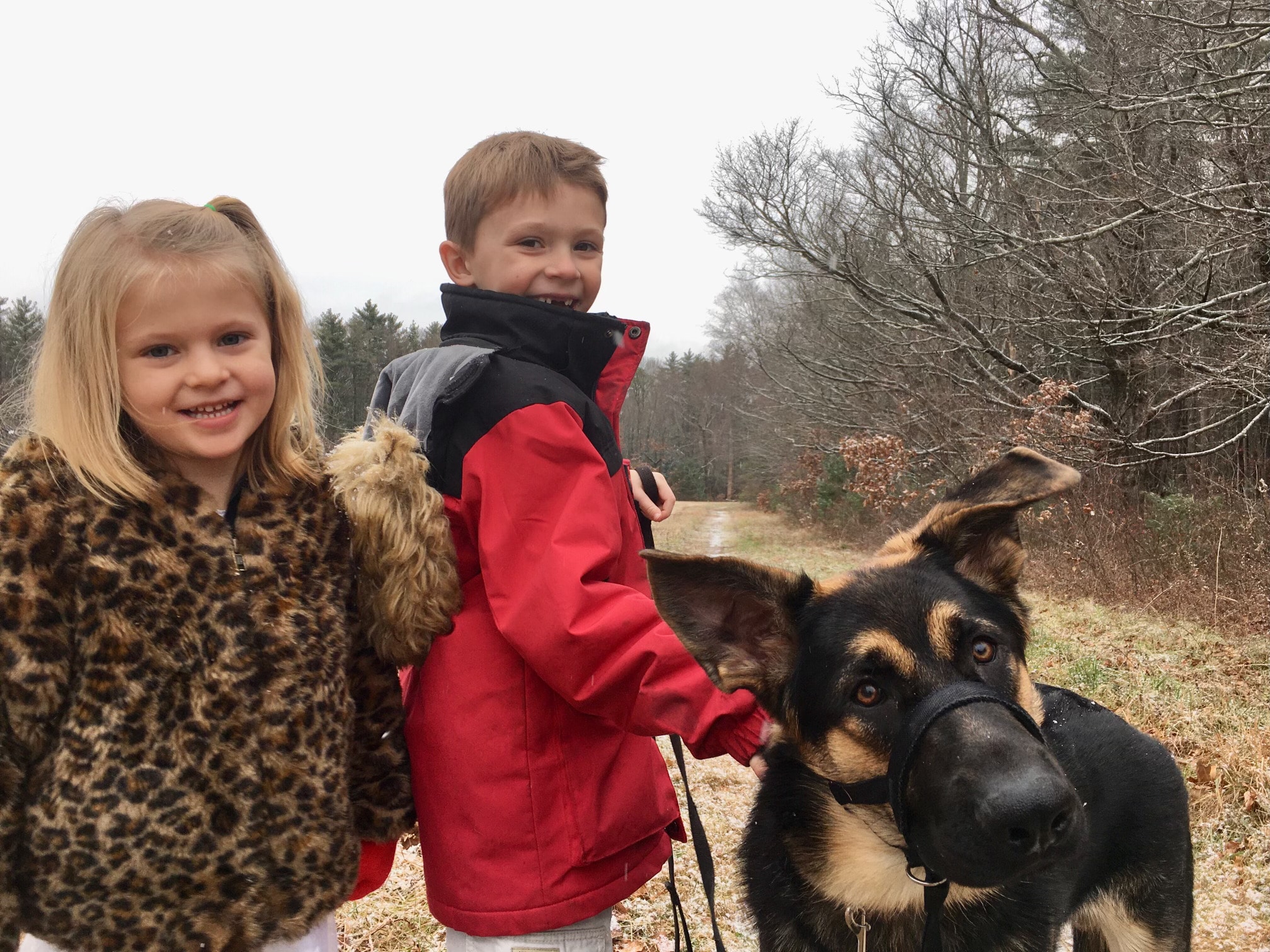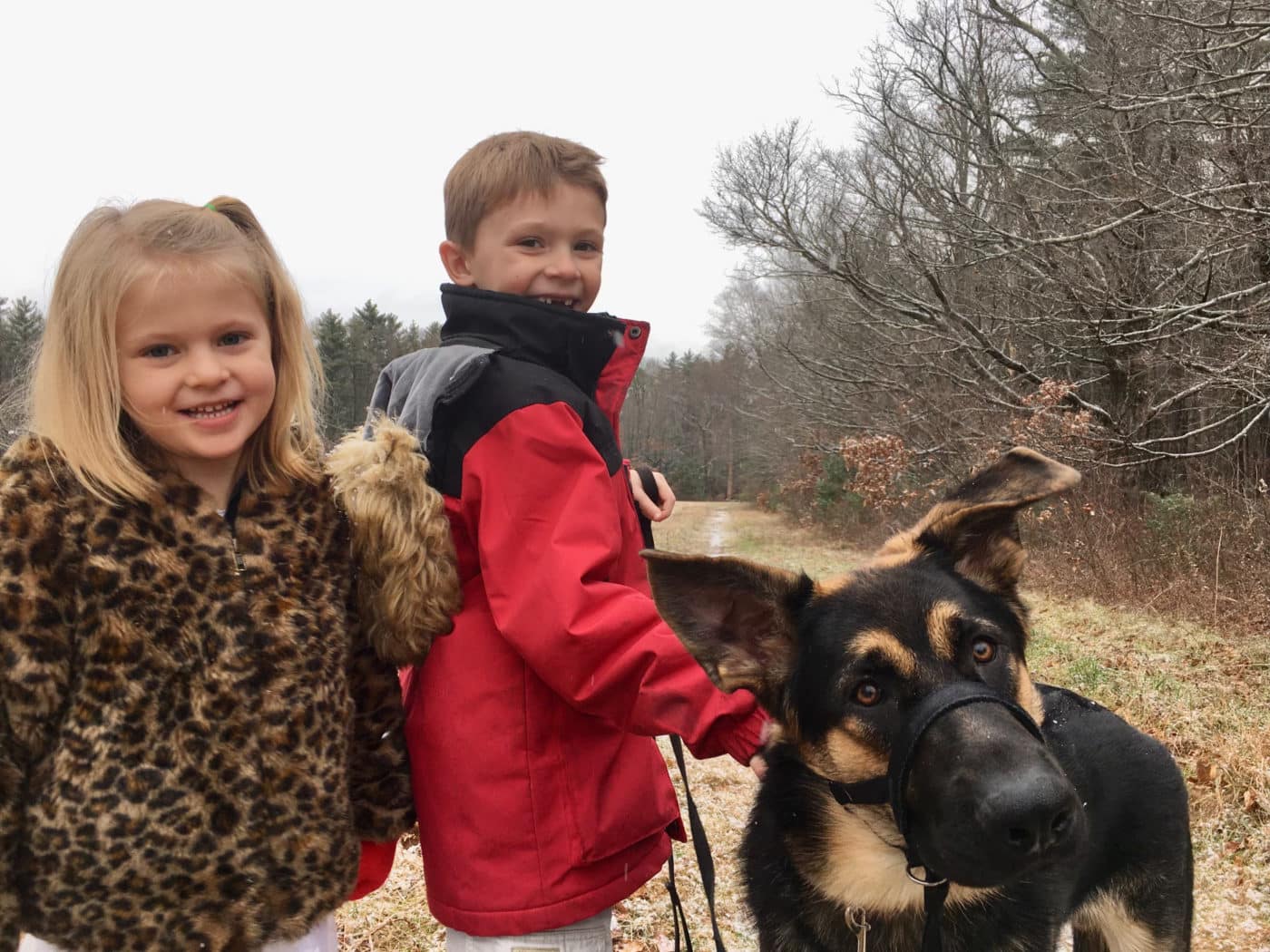 Two of Evrest and Scooby's biggest fans are the Fureys' children: Max, age 7, and Millie, age 5. "They love hanging out with the dogs," shares Evie. Max and Millie came up with the names of both dogs. Evrest is named after canine character Everest from the children's animated series PAW Patrol, and Scooby is named after Scooby-Doo. The pups have been part of family activities— from neighborhood walks and bike rides, to hiking and canoeing, to times spent relaxing or playing with friends.
The attention and activities Evrest and Scooby received at home and out in the world—and their experiences with Evie's and Mike's educational communities—have helped the pups learn to be calm and focused around different people, places, and distractions.
Fidelco is so grateful to the Fureys and our Puppy Raiser community for providing exceptional love and care and exposing pups to the many things they will encounter as trusted guide dogs for people who are blind.
---
More Fidelco News