Now offering "Virtual Dog Days" for kids of all ages!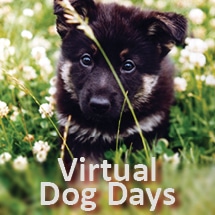 This is a free virtual event May 4 through May 8, 2020.
Looking for ways to keep your children engaged with fun learning activities during this time of staying safe at home?
We're offering an opportunity to do just that through our new Virtual Dog Days program! Children of all ages will learn about Fidelco's mission through a variety of interactive activities, including: "live" drawing lessons and Tao Dog Yoga sessions with our multi-talented staff members; a chance to speak with a Trainer, Puppy Technician and client who is blind; and, many more fun activities designed to be completed on your own schedule.
"Live" activities will occur each morning at 9:00am EST.  Additional activities for the day will be posted as well.  You'll get instructions on how to access all the activities right here. Check-in each morning to plan the day ahead.
Most activities can be done with items you already have at home. However, please see below for supplies associated with each activity so you can plan to order anything you might not have if you wish to do so. There is no need to purchase items as the materials can be swapped for what you have on-hand.
We're looking forward to sharing our mission with your child in a fun, creative learning environment!
Schedule and Supply List:
All "live" activities will be conducted through Zoom. Please see below for necessary login information. Sessions will be open at 8:55am EST each day.
Monday, May 4
9:00am-9:30am EST:  Live Q&A  Zoom Link Password: Fidelco, Meeting ID: 833 2353 6300
with Trainer/Instructor Laura Roy
Supplies: None
Afternoon Activities:
Frosty Breath Dog Treats
Click here for Instructional Sheet
Click here for YouTube Video
Supplies: Coconut Oil, Chicken Broth or Water, Plain Yogurt, Mint, Parsley
Peanut Butter Dog Treats
Click here for Instructional Sheet
Click here for YouTube video
Supplies: Peanut Butter, Banana, Oats, Flour, Egg
Thursday, May 7
9:00am-9:30am EST:  Live Q&A Zoom Link Password: Fidelco, Meeting ID: 828 0824 7297
with a Fidelco client, conducted by Trainer/Instructor Bryant O'Neill
Did you miss it?  Click here for the recording.
Supplies: None
Afternoon Activities:
Storytime
Click here for YouTube Video
Listen to Hero, read by Trainer/Instructor Lindsay Kababik
Supplies: None