Four one-week sessions available July 6 through July 31, 2020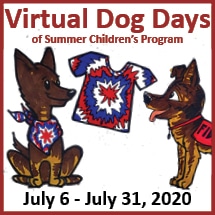 Fidelco Guide Dogs is thrilled to offer a fun-filled Virtual Dog Days of Summer Children's Program for children of all ages in place of our in-person summer program! We've carefully selected a variety of engaging hands-on and "live" virtual activities with Fidelco's trainers, puppy technicians, and other special guests. Your child will receive their own "Fidelco Kit" in the mail with all the materials they'll need for each week they are participating, so there's no need to scramble to order supplies!
Please see below for details about the theme and activities for each of the four weeks. Instructional videos for activities and virtual sessions are set up through email links and Zoom for the "live" portions of the week. Please note we are still adding special guests. Your involvement as a parent/guardian will depend on the child's age.  Some hands-on activities may require assistance for younger children.  Most "live" activities will take place at 1:00pm EST unless otherwise noted.
The cost for each week is $99 and includes all the supplies your child will need to complete the activities. You may register for as many weeks as you'd like. Each week has its own theme with different activities. Keep in mind, all supplies needed for the week will be mailed to your child in their Fidelco Kit.

Click here to register. (one registration per child)
Week 1:  Let's Get Creative (July 6-10)
Registration closes Tuesday, June 30, 4:30pmEST
Fact Booklet: Fun Fidelco Facts
Activity: Snuffle Mat Activity
Activity: Silly Stories: Fill-in Books
Activity: Robo-Dog: Build Your Own Robo-Dog Competition
Activity: Matching Tie Dye T-shirt/Dog Bandana Activity
Activity: Balloon Helicopter Craft
Activity: Kaman KMAX Video
Live: Tao Dog Yoga
Live: Fidelco Fact Trivia Game
Live: Sidewalk Drawings (with additional time-lapsed videos)
Live: Special Guest: Kaman Aircraft
Extra: Other activities to do at home at your own pace
Week 2:  What is Blindness Like? (July 13-17)
Registration closes Wednesday, July 8, 11:59pmEST
Fact Booklet: Learn New Facts about Blindness and the Tools used by those who are Blind
Activity: Daily Challenges (with included blindfold)
Activity: Hands-on with an Accessibility Tool - How it's used, what it is, what does the Braille say?
Activity: Learning to Read and Write in Braille
Activity: Silly Stories: Fill-in Books
Live: Special Guest - Fidelco Client
Live: Special Guest - Ashley and Danson: Learn about different tools to help those who are blind
Live: Special Guest - Visual Impairment Doctor
Live: How much do you know about blindness?
Extra: Other activities to do at home at your own pace
Week 3:  All About Puppies (July 20-24)
Registration closes Wednesday, July 15, 11:59pmEST
Fact Booklet: Learn about German Shepherd Guide Dog Puppies
Activity: Puppy Suncatcher Activity
Activity: Popsicle Stick Pup House/Bird Feeder
Activity: Silly Stories: Fill-in Books
Activity: Name Submission (to name one of the puppies)
Live: What Puppies Learn (at just 1.5 weeks old and on)
Live: Puppy Cam Bingo (spot the items to win the game)
Live: Name a Puppy! (find out which name won the contest)
Live: Puppy Trivia Game
Extra: Other activities to do at home at your own pace
Week 4:  Training Dogs (July 27-31)
Registration closes Wednesday, July 22, 11:59pmEST
Training cards: How to Train and Tips on Making it Work by Fidelco Trainers/Instructors
Activity: Create Toys to Keep your Dog's Brain Thinking
Activity: Make Your own Training Treats
Activity: Silly Stories: Fill-in Books
Activity:  Go-Pro Compilation (video of a working dog's viewpoint)
Live: Training Cam Bingo (spot the items to win the game)
Live: Kennel Tour (an inside look into where our dogs live)
Live: Training Trivia Game
Live: Inside look into the training of Fidelco guide dogs as they work in real-life environments
Extra: Other activities to do at home at your own pace