Teamwork: Marién Hornyak and "Keela"
Marién Hornyak warmly greets customers at her business, The Kitchenette. The Kitchenette is a vibrant shop located among the galleries, restaurants, and stores of downtown Frederick, Maryland. The cheerful storefront has a sign above the door in the shape of a cutting board, and inside, it offers a wide selection of cookware and bakeware, unique gadgets, and kitchen accessories. Marién opened her business in 2016, and it has become a well-loved destination for visitors and loyal customers. For the past year, working by Marién's side is her Fidelco guide dog, "Keela."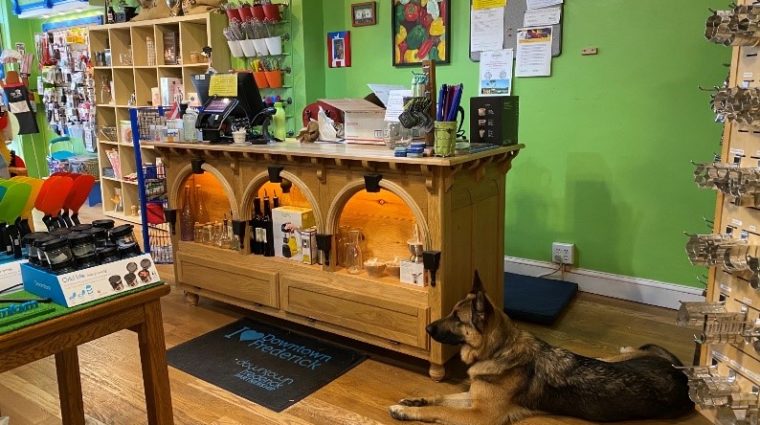 Keela is Marién's first guide dog. Marién was born with congenital glaucoma and has been legally blind since birth. She was a white-cane user for many years and has always been active, mobile, and independent. Marién and her husband, Tom, have a 17-year-old son and 21-year-old daughter. Marién is involved in her local community, serving on city advisory committees to advocate for accessibility and improved safety and quality of life for people with disabilities.
Marién holds a bachelor's degree in athletic training and a master's degree in sports management. Before becoming the owner and manager of The Kitchenette, she worked as a bilingual liaison at an area high school.
Marién had always wanted a guide dog but had a special needs dog as a pet at home and could not consider getting another dog during that time. More recently, Marién's husband's job responsibilities changed, requiring him to travel more frequently for work. At that point, she decided the time was right to apply for a Fidelco guide dog.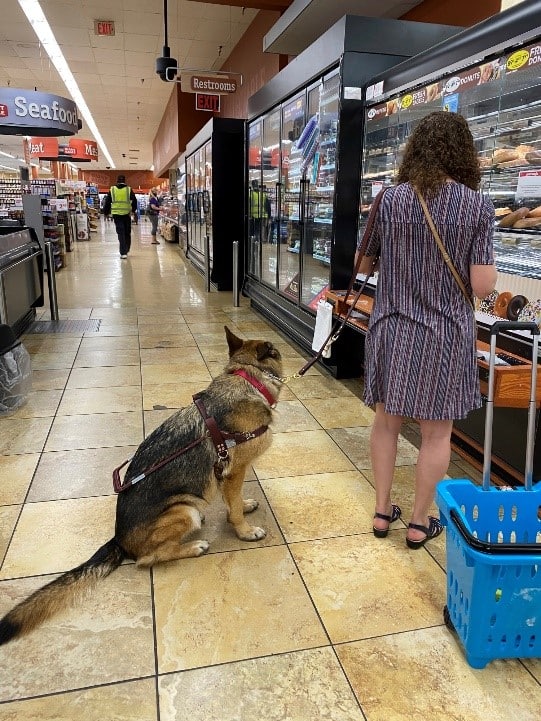 Marién knew she wanted a German Shepherd guide dog and the in-home training experience integral to Fidelco's In-Community Placement model.
One of the reasons I chose Fidelco is they come to you and train you in your own environment.
When Fidelco placement specialist, Chris Eastwood, brought Keela to Marién's home on the first day of placement training, the new team went to work right away—developing trust and confidence together. Marién shares, "The weeks of placement training were overwhelming, but life-changing. It was wonderful. We went to my church, grocery store, post office, and downtown. We visited the vet and pet store. We took the metro to Washington, DC. And it made all the difference."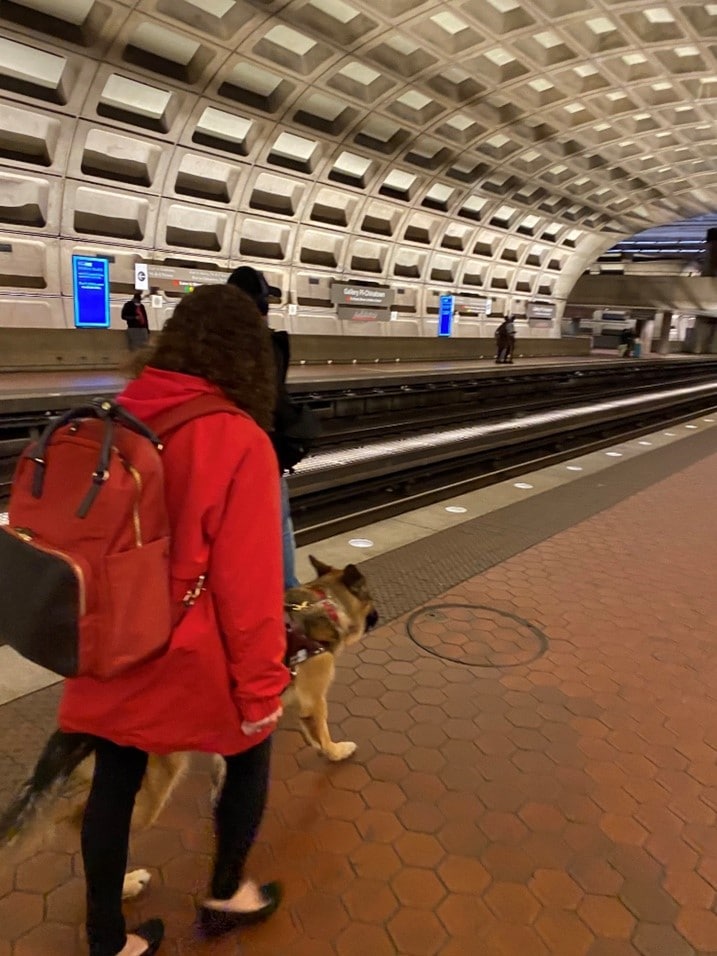 Marién describes her appreciation for the long-term support Fidelco provides to all its clients. "Fidelco doesn't just give you a guide dog and say, 'Here you go.' They provide annual checkups, and they check in with you. Because things do come up, and you want their reassurance that you are doing the best for yourself and the dog."
In the year since Marién received Keela as her guide dog, the team has covered many miles together. They have traveled by plane, train, boat, bus, and car. Marién is an avid baseball fan, and she and Keela have attended games at Wrigley Field in Chicago and at Nationals Park in Washington, DC.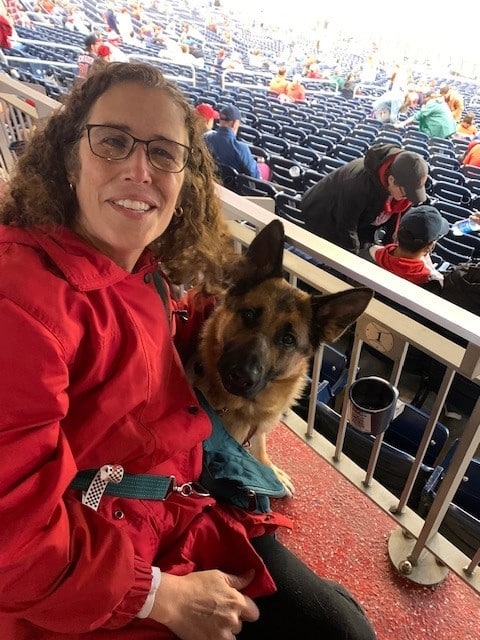 Marién is candid about the adjustments to her daily life and routine since receiving her guide dog. "You have to get up a little earlier in the day to make sure all her basic needs are taken care of so that she is ready to work. She works every single day." Marién and Keela walk the two and a half miles from Marién's house to the shop, and back home. On Mondays, when the shop is closed, Keela accompanies Marién on errands and to appointments. "She's a very busy dog."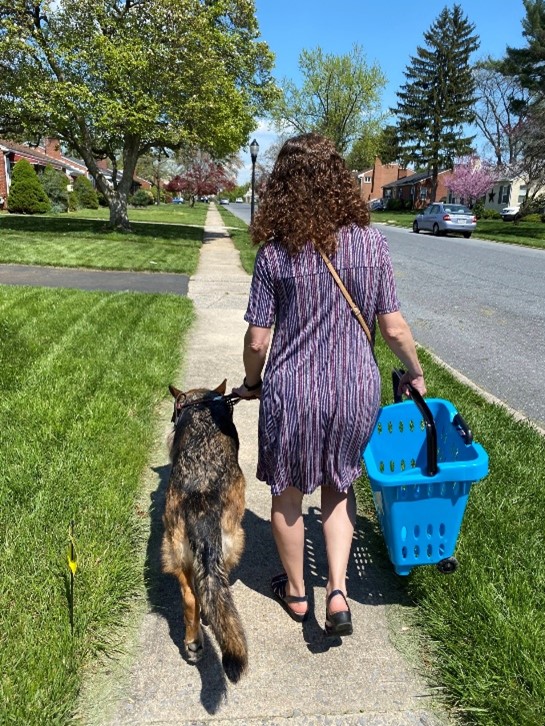 "I have always been independent," Marién shares. "Having a guide dog for me brings a sense of security, stability, and reassurance. I know that when my husband travels, I can get home safely, even when it's dark. We have a lot of construction in the area and sidewalks being upgraded, so Keela's been able to get me through. I can look straight ahead and not have to worry as much about what's underfoot. I feel safe. Keela has guided me everywhere I have needed to go."
"I would like to acknowledge the Puppy Raisers and trainers who helped prepare Keela for placement. The amount of work and countless hours that went into training Keela to be such a perfect match for my lifestyle shows."
---
More Fidelco News