Fidelco German Shepherd Dogs are bred from Bavarian stock to ensure ideal characteristics for guide dog work such as intelligence, temperament, stamina and stability. Fidelco guide dogs are responsible for our clients' safety at all times. This formidable task requires an uncompromising focus on the quality of the breed, extensive training, and thoughtful matching and placement.
Prospective clients interested in guide dog partnership, please request contact from our admissions staff.
For 60 years, Fidelco has been unwaveringly dedicated to its mission of breeding and training our German Shepherd guide dogs - and then expertly matching them with our clients across North America who are blind or visually impaired.
Our passion is to produce the highest quality guide dogs, dogs who are partners in the engaged and vibrant lives of our clients. Our focus has never shifted from guide dogs, or from providing increased independence and mobility to you, our valued clients. When you become a Fidelco client, you benefit from not only our deeply rooted heritage but our bright and steady future as well. If you are interested in a Fidelco guide dog, please request contact from our admissions staff.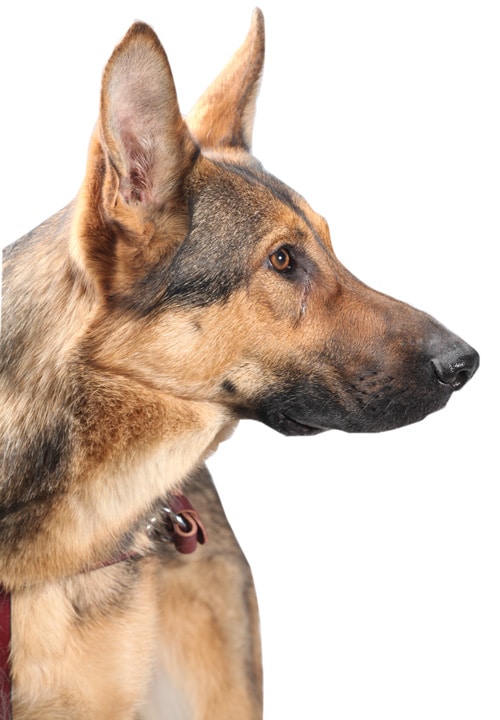 Why Fidelco?
We know there are many guide and service dog schools out there. So, why Fidelco?
We breed, raise, and train only Fidelco German Shepherd guide dogs." Created from Bavarian stock, the Fidelco German Shepherd is an outstanding and exclusive product of selective breeding from strong working lines; thus, our dogs possess the characteristics of the ideal working guide:  intelligence, temperament, stamina, and stability.
We provide our German Shepherd guide dogs at no cost to clients.  All the training you receive from our certified trainers/instructors and all at-home follow-up visits (at least once yearly) are also provided free of charge, as is access to our 24/7 hotline.
Our In-Community placement program allows you to bond and train with your Fidelco Guide Dog in your home and in the community in which you live and work.  Fidelco pioneered this program, and it remains the gold standard - and demonstrates that Fidelco understands you may not have the time, nor the desire, to be away for weeks.
Because you train at home with your dog and with your dog's dedicated trainer, the client-to-trainer ratio is always 1:1. The strength and safety of your team is all that matters.
Partnering with a guide dog is a big decision, and it's one that can be truly life-changing. At Fidelco, we take great pride in our work, and in the often life-saving partnerships we create. Our clients have referred to us as their "Fidelco family," and we'd love the opportunity to welcome you into that fold.
From our stringent application process to our equally rigorous method of matching clients to dogs, which help ensure that we are not only creating successful partnership but loving friendships as well, Fidelco has a team in place to walk you through each step and our support continues for the entire working life of your unique partnership.
Learn more about the application process by contacting our admissions staff. We look forward to hearing from you.
"In-Community" Placement
Fidelco pioneered In-Community Placement in the United States. Through this one-on-one process, our clients are trained to use their guide dogs in their homes, neighborhoods and places of work. And throughout the two- to three-week training process, they have the support of their family, friends and co-workers. As importantly, In-Community Placement allows our professional trainers/instructors to carefully evaluate new clients' progress in their individual day-to-day environments. We have found in our six decades of placing guide dogs that this training method is the most effective way to create high functioning teams.