In the summer before Marion Yingling's senior year of high school, a flyer from Fidelco Guide Dog Foundation arrived in her family's mailbox. After learning more about Fidelco's mission and observing Puppy Raiser classes at the Wilton campus, Marion knew she wanted to become a Volunteer Puppy Raiser.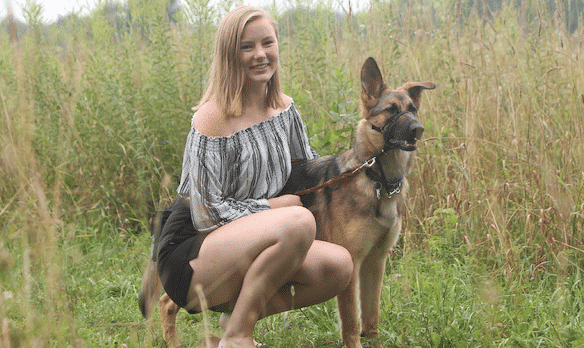 Marion and her family soon welcomed Fidelco puppy, "Tink," into their home. Marion took on the responsibility of raising Tink and teaching her good manners. After Tink returned to Fidelco's Bloomfield campus for formal guide training, it was decided that the best role for Tink would be as a career-change dog, and she was reunited with the Yinglings as a pet. Now three years old, Tink accompanies Marion and her parents out in the community, serving as a Fidelco ambassador and raising awareness of the mission.
After high school, Marion's interest in the training and behavior of horses and dogs led her to enroll at the University of Kentucky (UK). Marion is in her junior year in the Equine Science and Management program. She is also a member of the Equestrian Team.
In March of 2020, UK closed its campus due to the COVID-19 pandemic and transitioned to online classes. When Marion returned to Connecticut, she heard that Fidelco was looking for Volunteer Puppy Raisers, and she was eager to help. In June, Marion brought Fidelco pup, "Griffin," into the Yingling home.
In July, Marion and Griffin began attending the weekly virtual puppy classes taught by Fidelco Puppy Raiser instructor Gianna Panullo. As the summer days were passing and Griffin was thriving under Marion's care—and with Marion scheduled to return to college in August—Gianna began working diligently to research the possibility of Marion raising and training Griffin in Kentucky.
"Initially, I came to Fidelco for the puppies. I quickly experienced how super smart and hardworking Fidelco German Shepherd guide dogs are."

Marion Yingling, Fidelco Volunteer Puppy Raiser
Gianna contacted the university to inquire about a student fostering a Fidelco pup on campus. Local veterinarians and vet hospital contacts were secured for Griffin's care and vaccinations. After all preparations were made to ensure Fidelco's and the university's health, safety, and housing requirements were met, permission was granted for Griffin to live with Marion on campus.
The fall semester is currently underway, and Marion and Griffin are settled in their university home. Griffin has already made a name for himself on campus. Marion says, "Griffin likes to meet everyone, and everyone loves him." Marion and Griffin attend virtual training classes every week, and Fidelco continues to monitor Griffin's progress in Kentucky.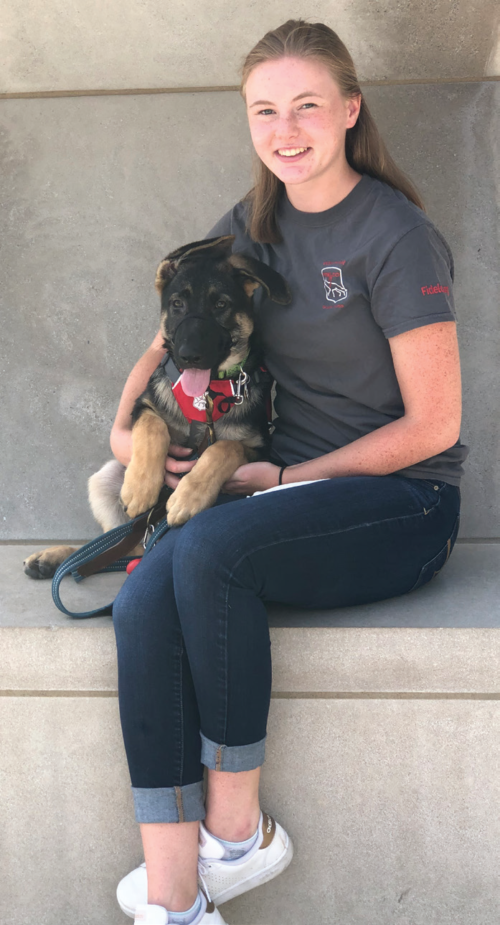 At college, Marion is exposing Griffin to a variety of sights, sounds, and experiences that provide real-world opportunities for his training and socialization. There are busy crosswalks, parking lots, elevators, automatic doors, stairs, dogs, horses, bikes, and frisbees.
Marion shares that Griffin has easily adapted, from the 2-day car trip to Kentucky with a hotel stay in between, to moving in to campus housing with Marion's three roommates and a service dog being raised by one roommate, to nearby construction, alarms, and people and vehicles coming and going.
Marion proudly says Griffin is "unfazed and calm." Thanks to Marion's dedication to her pup's care and training, Griffin is already demonstrating the essential traits and temperament to become a trusted guide dog partner for a person who is blind.
---
More Fidelco News