SrA Michael M., USAF, and his Fidelco guide dog, "Xxon," have an extraordinary story containing all the elements of an unforgettable movie: patriotism, war, drama, heroism, sadness, inspiration, love and triumph. But this is no movie script for Michael, it is very real. It is his life story.
On January 3, 2010, in the remote mountains of Afghanistan, SrA Michael M. was blinded and severely wounded by a powerful improvised explosive device (IED) that killed four team members and blew him off a bridge.
Following months of determined rehabilitation and painful facial surgeries, and exactly one year later, Michael was partnered with his Fidelco guide dog "Xxon." With Xxon leading the way, Michael returned to active duty status as the only blind airman serving in the United States Air Force. He also received the Bronze Star with Valor for heroism on the battlefield.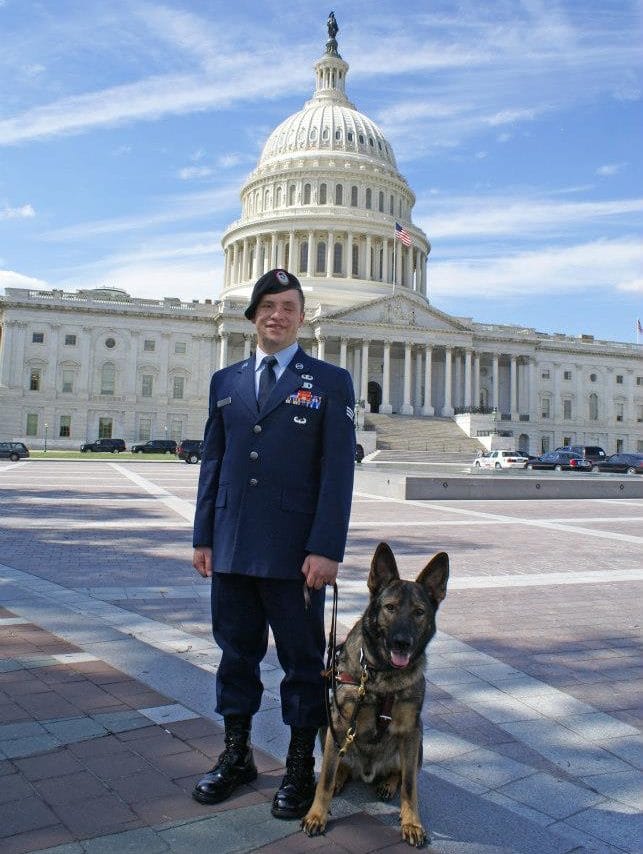 Xxon is a game-changer for the entire family. "Xxon does one of the greatest services any companion could do. He gives hope. He offers freedom. He guides," says Michael's wife, Jesse. Xxon also provides increased freedom and independence for Jesse. "When Xxon is working with Michael, I don't feel that I have to watch out for him every minute," said Jesse, "I can focus on being a mom to our children." And Michael agrees, "I can get around in half as much time and my confidence is way up. I'm excited to be out and in society again." Michael added, "I'm so lucky to be alive. Being blind is such a small thing; I'm not going to let it slow me down at all. I don't know where I'd be now if it weren't for Xxon." Michael scuba dives, wake boards, rides horses and keeps up with his young family.
Michael was instrumental in raising national awareness about the importance of life-changing guide dogs and other service dogs for our nation's blinded and wounded heroes. With Xxon by his side, Michael and Fidelco leadership met with members of Congress in September 2012. As a result of the meeting, then-Senator John Kerry (D-MA) introduced S.3869—the Senior Airman Michael Malarsie Act for the creation of a federally funded grant program for qualified service dog agencies like Fidelco. The federally funded Wounded Warrior Service Dog Program came to fruition in 2015, and Fidelco has been a grateful recipient of grants funded by the program.
Michael and Jesse sum up their gratitude to Fidelco and its supporters quite simply by saying, "We are very blessed that so many people care so much about people like us. Thank you."
Editor's Note: On November 1, 2012, Michael was promoted to the rank of Staff Sergeant.
---
More Fidelco News