Like so many organizations in the United States and around the world, Fidelco quickly transitioned to remote operations in mid-March as the COVID-19 crisis mounted. Within 48 hours, every one of the 50 dogs in the kennel was welcomed into the home of a staff member, Puppy Raiser, or puppy sitter.
Fidelco Trainer/Instructor Nate Lavigueur is one of these staff members. Guide dog-in-training, "Indra," puppy-in-training, "X-Val," pet dog, "Boo," and Nate's baby daughter, Sylvia, became an inseparable crew in the Lavigueur home. "Controlled chaos" could be used to describe the situation, but the benefit to each in Nate's charge was undeniable. "When you have three dogs and a baby underfoot, everything has to be done as a group, with everyone on the same schedule. They ate together, walked the neighborhood together, explored and learned together. There are many parallels between raising an 8-month-old baby and a puppy, in particular."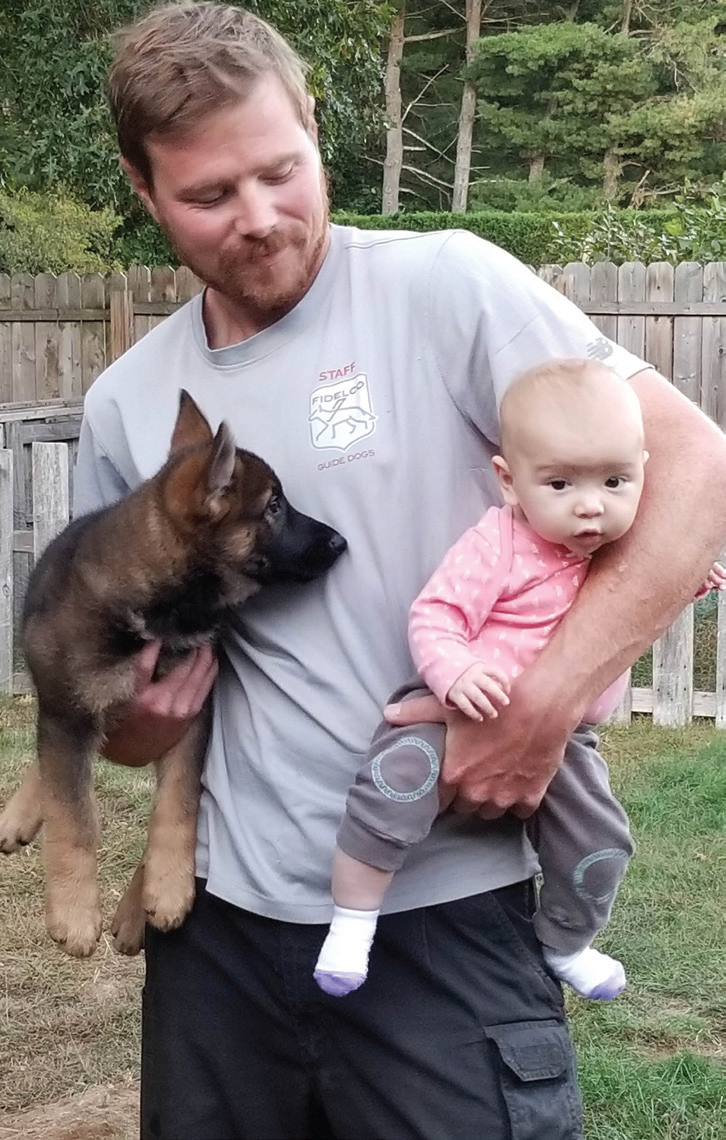 For guide dogs-in-training, the benefit of reduced kennel stress coupled with constant interaction from the trainer created a successful, well-rounded guide dog. Indra was placed with a client in Albany in late August. "Obedience became a really important—perhaps the most important—skill to refine in this home environment with so much going on, says Nate. "On rainy days when it was hard to go outdoors, I found the dog version of 'planking' became a wonderful way to take the edge off. X-Val loved perching on an empty bucket or pedestal. All the trainers had to get pretty creative and it worked."
X-Val is just emerging from "pup adolescence" which takes place from approximately 6–8 months of age. She had the advantage of observing Indra's influence as a dog in the formal stage of guide dog training to learn important behaviors. Nate's young daughter, Sylvia, became great buddies with her three canine friends and is definitely not afraid of big dogs.
Long before Nate took on this challenge, he attended Fidelco's annual Open House in May 2015. Nate grew up around the corner from the Bloomfield campus, so he was familiar with the organization. After earning a business degree from the University of Central Florida, Nate returned to Connecticut and learned of an open kennel staff position. He was hired for that position and 5was immediately struck by the intelligence of the German Shepherds in his care. Nate began wondering about the clients who would one day receive these dogs as their partners. He was motivated to apply for an apprentice position within the training department. Like all apprentices, Nate's apprenticeship involved studying under multiple trainers for three years and culminated in an intensive double placement, followed by written and oral panel examinations.
Fidelco Trainers like Nate are dedicated to creating pathways for success for dogs at every age and stage to reach their full potential to become the best possible partners for our clients. Even in this time of uncertainty, Fidelco staff is rising to the occasion in countless ways. We are confident we will be able to meet the needs of current and future clients because of this spirit of making an "impossible" mission possible.
---
More Fidelco News