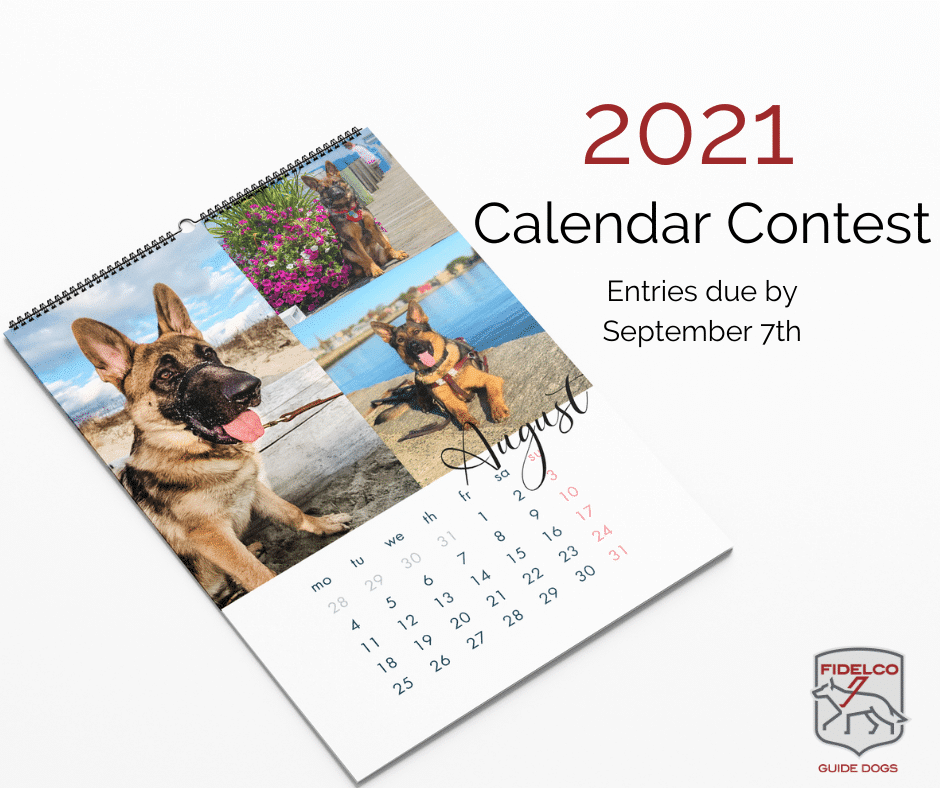 Attention all Fidelco puppies, guides, breed, pets, and career change dogs!
The Calendar Photo Contest has always been a favorite among Fidelco dog lovers. This fundraising opportunity is even more important this year, as many in-person fundraising events have been canceled. When you show off your Fidelco dog(s) and raise money, you are playing a significant role in moving our mission forward.
The Calendar Photo Contest for 2021 will be based on your own personalized fundraising page. This will be shared with your family and friends and across social media. The top 12 fundraisers will have their photo(s) appear in the 2021 calendar.
2021 Fidelco Calendar Photo Contest
First step: Submit as many photos as you like through the link below.
If for any reason you are unable to use the link below you may email your photo(s) to Melanie at myates@fidelco.org and include your name, your dog's name, and a contact number.
Second step: Personalize your fundraising page with the approved photos and include information about why you do what you do for Fidelco and who your dogs are. Really tug on those heartstrings!
A virtual information session about the fundraising page will be hosted by Tricia after 9/7/20.
Third step: Send that link all to everyone you know and start raising money! Remember, the top 12 fundraisers will have their photo(s) appear in the calendar.
Submit your photo(s) at https://www.barkerstores.com/fidelco/CalendarEntry.aspx following the guidelines below:
1. The dogs in the photo must be a Fidelco guide dog puppy, Fidelco guide dog (working or retired), Fidelco breed dog, or a Fidelco career change dog/pet.
2. You may submit as many photos as you like, but Fidelco will choose which photos enter the contest.

3. Photos must contain only dog(s) – no people.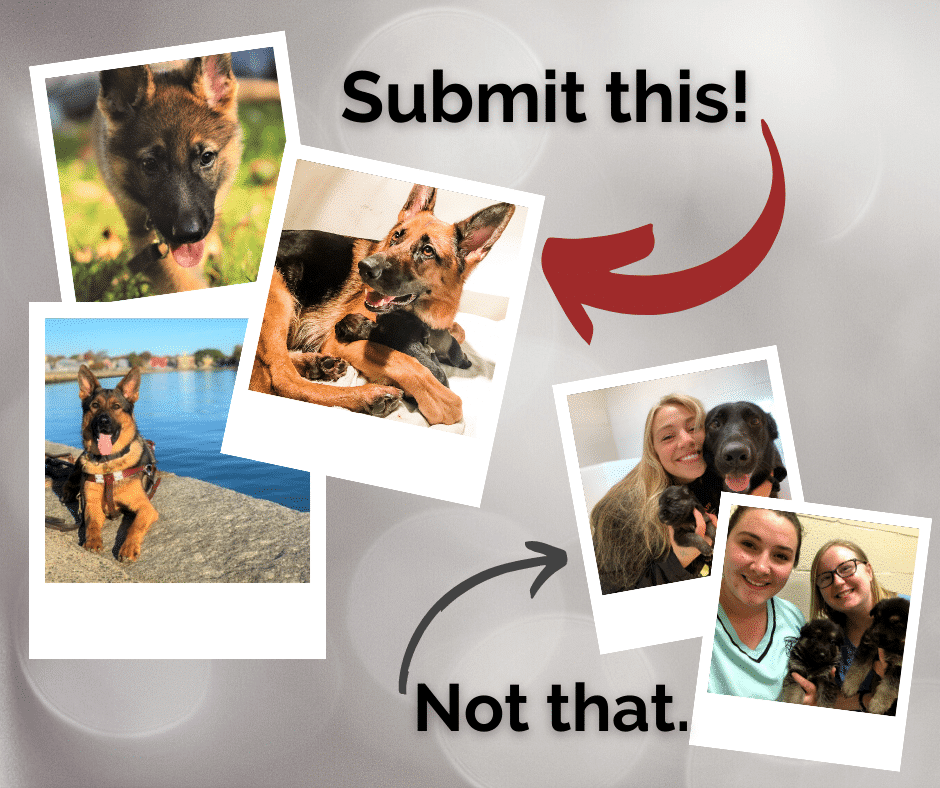 4. Photos must be high-resolution digital files. Please set your camera to the highest possible settings. File formats accepted are .JPG and must be submitted electronically. If a photo is not a high-resolution photo it may still qualify for a smaller photo in the calendar but not as a large monthly photo.
Brighter photos do better! Submit clear photos, with vibrant backgrounds, and make your dog the star!

5. Contest participants are responsible for ensuring they have the right to submit photos. By submitting a photo, you affirm you are the photographer or have been given unrestricted use permission by the photographer.
The deadline for 2021 calendar submissions is September 7, 2020. Photos submitted after 9/7/20 will be considered for the 2022 calendar.
Tricia reviews the new changes and guidelines for the 2021 calendar here.
Questions? Contact trowold@fidelco.org