September 17, 2020 @ 7:30 pm - 9:00 pm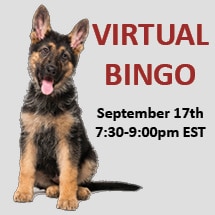 Virtual Bingo
Thursday, September 17, 2020
7:30pm – 9:00pm EST
Support Fidelco while having fun from home!
Fidelco Guide Dogs is bringing back an evening of fun from the comfort of your own home. Virtual Bingo is something the whole family can enjoy! Order your favorite take-out, turn off the TV, and have a great time!
We had a blast playing last spring with Fidelco supporters from all over the country and hope even more people will participate this time. There will be two winners for every game played and two grand prize winners announced at the end!
What is needed to play Virtual Bingo:
Access to Zoom through a computer, phone or tablet
Ability to print playing cards
Email address to receive bingo cards and important login information
What does is cost:
Single player: $25
Two players: $40
Three players: $60
Four players: $75
Five players: $85
Six players: $100
Additional Information:
There will be two winners for each game
We will play as many games as we can during the 1.5 hours
You will be given all the cards you need for each person who registered in your household
You will receive your cards by the afternoon of September 17th
Each winner will receive a Fidelco prize
Two winners will win a grand prize through a name drawing of all winners