Toyota Oakdale Theater and Live Nation's "Magic of Lights" Event
November 13, 2020 - January 2, 2021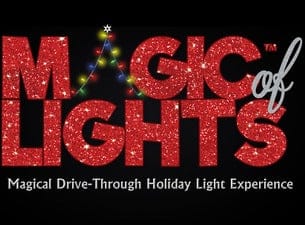 We're excited to share that Fidelco has been selected as one of two non-profits to benefit from ticket sales for the "Magic of Lights" holiday event in Wallingford, CT in partnership with Toyota Oakdale Theater and Live Nation!
Magic of Lights is a drive-through holiday lights experience featuring LED technology, digital animation and festive holiday scenes. The best part is that all can be enjoyed from the comfort and safety of your own vehicle!
From now through January 2nd, every ticket sold using the code FIDELCO will be discounted $2.00 and we will receive a $2.00 donation toward our mission. More than 30,000 tickets are expected to be sold, so please use the code if you are purchasing tickets and pass it onto anyone you know who may be interested!
For event and pricing details, please visit: https://magicoflights.com/events/wallingford/