Best of Virtual Dog Days of Summer Children's Program 2020
August 17, 2020 - August 21, 2020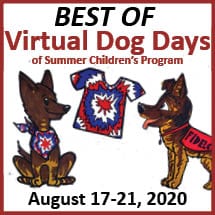 Fidelco Guide Dogs is thrilled to offer the Best of Virtual Dog Days of Summer Children's Program for children of all ages! We're bundling favorite activities and guest videos based on reviews from those who participated in previous weeks. Your child will engage in hands-on activities and will have the chance to hear directly from Fidelco's trainers, puppy technicians, and other special guests. They'll learn about Fidelco's history, the training process of our dogs from pup to guide dog, and our remarkable clients who are blind. We're also adding two extremely popular "live" virtual activities!
This one-week-only program is being offered at a special rate of $99 and includes all the supplies your child will need to complete the activities. Your child will receive their own "Fidelco Kit" in the mail with everything they'll need for each activity, so there's no need to scramble to order supplies.
Instructional videos for activities, pre-recorded videos and two virtual sessions are set up through email links and Zoom. Your involvement as a parent/guardian will depend on your child's age. Some hands-on activities may require assistance for younger children. Most activities can be conducted on your own schedule, making this a stress-free, fun week of engaging and educational fun. The two "live" virtual events will be conducted at 1:00pm EST.
Click here to register and secure your child's spot today! (one registration per child)
Please see below for list of activities. 
Best of Virtual Dog Days of Summer Children's Program (August 17-21).
Registration closes Sunday, August 16, 11:59pm EST. All Fidelco Kits will arrive by Saturday, August 15, for those who register no later than Tuesday, August 11 by 11:59pm. Please note that you may still register after this point, but your Fidelco Kit may be delayed.  A delayed Fidelco Kit will not interfere with our pre-recorded and virtual activities.
▪ Make your own Matching Tie-Dye T-Shirt and Dog Bandana
▪ Silly Stories Fill-In Booklet
▪ Fidelco Fact Booklet
▪ Sidewalk Chalk Drawings – How to videos!
▪ Tao Dog Yoga
▪ Create a Snuffle Mat
▪ Take Off in the Kaman KMAX Simulator (Video)
▪ Get to Know Accessibility Tools with Ashley the Blind Blogger (video)
▪ Daily Challenges (with included blindfold)
▪ Hands on with an Accessibility Tool
▪ Learn to Read and Write in Braille
▪ Hear the Story of a Fidelco Client (video)
▪ Insight into Eye Care with a Pediatric Eye Doctor (video)
▪ Paint a Puppy Suncatcher
▪ Build a Popsicle Stick Pup House
▪ Meet a Fidelco Puppy Litter (video)
▪ Training Cards: How to Train Your Dog
▪ Create Toys to Keep your Dog's Brain Thinking
▪ Make Your Own Training Treats
▪ Go-Pro Compilation (video of a working dog's viewpoint)
▪ Fidelco's Kennel – Tour Video
▪ Inside look into Training a Fidelco Guide Dog (video)
▪ Learn about Clinton, CT Police Officer Frey and his K9 Partner Sonny
▪ "Live" Virtual Trivia
▪ "Live" Virtual Bingo
Questions? Contact trowold@fidelco.org