2021 Calendar Photo Contest Voting DEADLINE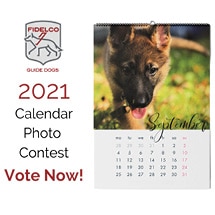 Voting for the 2021 Calendar Photos is NOW OPEN!
Each year, Fidelco Guide Dogs holds a contest to determine which Fidelco dogs will win a coveted spot in the calendar for the coming year. Your votes determine which photos will appear in the 2021 Fidelco calendar. All proceeds will support Fidelco's life-changing mission to partner exceptional people who are blind with German Shepherd guide dogs, providing all clients with increased independence to improve their lives and the world around them.
Click here for photo album of all contestants!
Votes are counted as donations. Click through the fundraising pages here to see which dog you would like to vote for and make a donation.
To search by DOG NAME,click here and select Advanced Search to fill-in the bottom field.
The 12 fundraising pages that receive the highest amount of donations will have their photo featured on one of the monthly pages of the 2021 calendar. The runners-up may see their photo as a smaller image throughout the calendar.
Check back often as the top 12 contenders compete to keep their place!  
Fundraising Deadline: Sunday, October 4.
Looking to become a sponsor?
Please contact either Mark McGrath at mmcgrath@fidelco.org or Jan Schaefer at jschaefer@fidelco.org.
Questions? Contact trowold@fidelco.org