Client Stories: Snapshots
Fidelco Guide Dog Foundation celebrates the diversity of our clients from across North America. Despite varied life experiences, careers, and interests, all lead active and fulfilling lives with their guide dog partners.
Meet Esther, Paul, and Laura.
Esther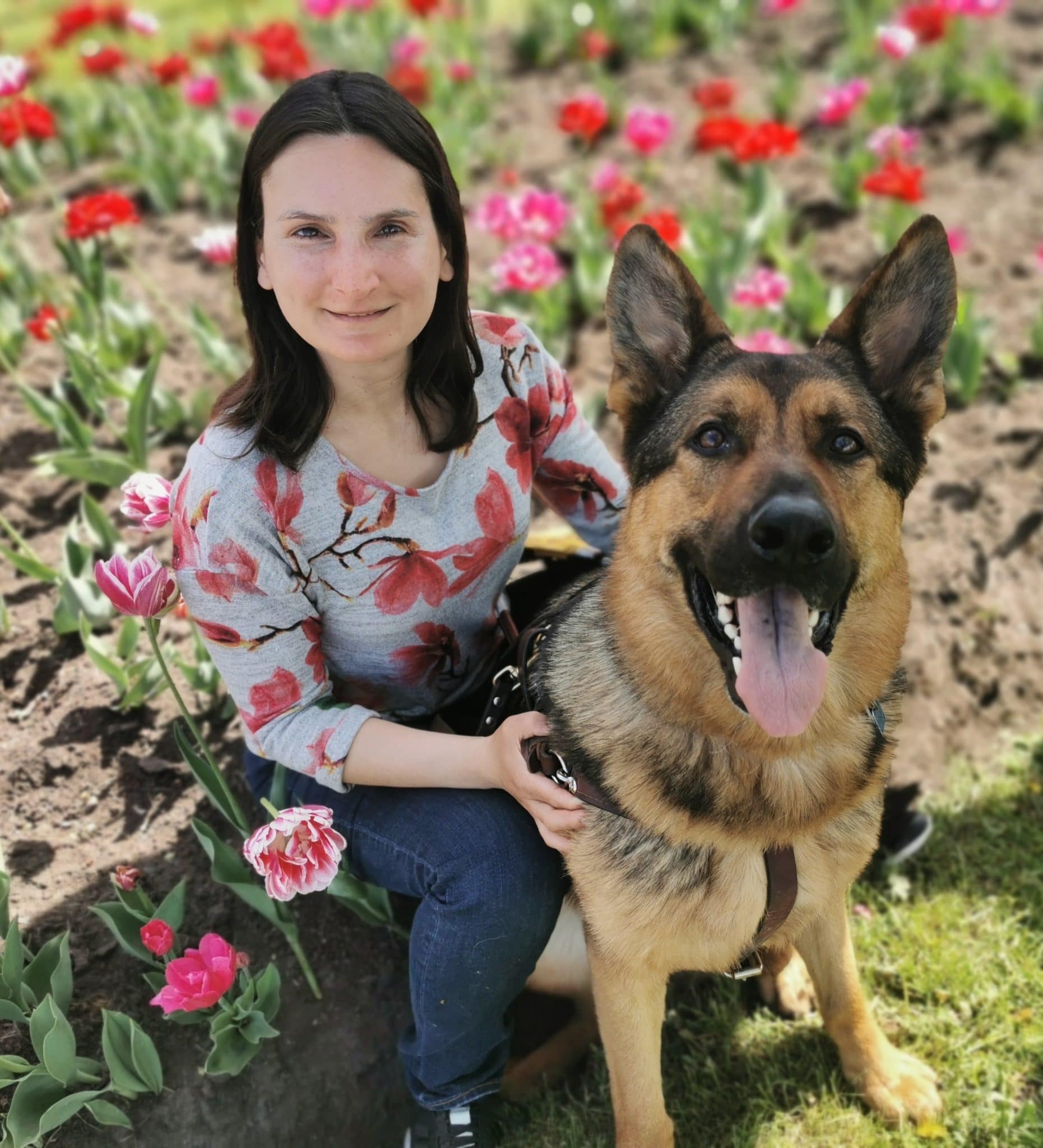 Born in Kyiv, Ukraine, Esther Berman, who is totally blind, emigrated to Canada with her family when she was six years old. She lives in downtown Ottawa with her successor Fidelco guide dog, "Zion," whom she describes as a "magnificent animal full of joy and life."
Esther graduated from the University of Ottawa in 2010. She worked at Health Canada (a federal department) as part of a co-op program while in college and was then employed there until 2017. She is now an Analyst for the Canadian Coast Guard researching, planning, and reporting on priorities for the Coast Guard based on government mandates. Esther also serves as Co-Chair of the Coast Guard's Accessibility Network and was recently honored as a 2021 Canadian Women in Defense "Emergent Leader."
Esther loves to be active, especially outdoors, and Zion is almost always right there by her side. She horseback rides weekly in an arena where Zion delights in seeing the horses, and in the summer, she waterskis after Zion takes a swim. Zion is happiest when active, so Esther takes him on long walks along nearby canals, rivers, and trails she discovered while under Covid lockdown. She describes Zion as the perfect dog to have while quarantining, because he pushed her to be outdoors and explore the natural spaces within the city. She describes Zion as her "cool partner" who always takes his guide dog work confidently and seriously, but also shows his love for her in subtle ways when not working. Esther says, "He only has eyes for me and that makes me feel very loved!"
---
Paul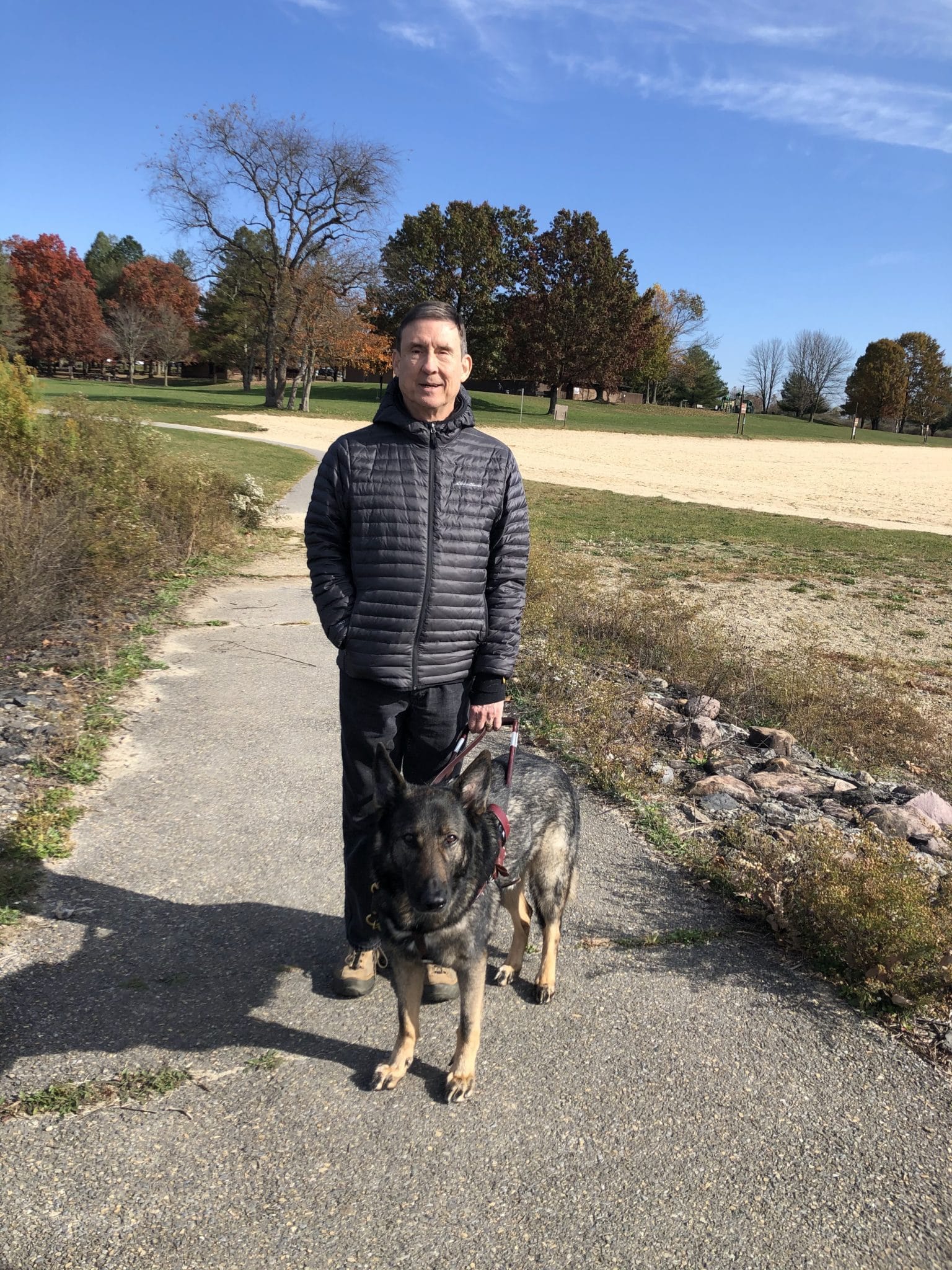 Paul Allen credits "Cozmo," his Fidelco guide dog partner since 2013, and his prior guides for enriching his life. Paul is originally from Connecticut and now lives in Baltimore with his wife, Lisa.
Paul has "worn many hats" during his working career. His career began as a clinical psychotherapist in the mid-1970s and continued until 1995. For the next five years, Paul was a stay-at-home dad caring for his teenaged children and writing fantasy and science-fiction short stories. While he excelled in his second career as a published and award-winning writer, Paul recognized it was not financially sustainable to continue in that field. He changed careers and became a medical massage therapist in Massachusetts while Lisa worked in management positions at local hospitals. In 2014, Paul and Lisa moved to Baltimore when Lisa was hired at The Johns Hopkins Hospital, and Paul began his current career in finance.
Paul reads, hikes, and travels to visit family and places throughout the world. Cozmo often accompanies him and is an excellent traveler. Cozmo gives him the independence to walk up Baltimore's historic Federal Hill or meet with clients. Once Paul's clients witness the interactions between him and Cozmo, any preconceived ideas they have about people who are blind fall away. "I am a totally capable, fully functional, prosperous individual," says Paul, "who just happens to be blind and living life to the fullest."
---
Laura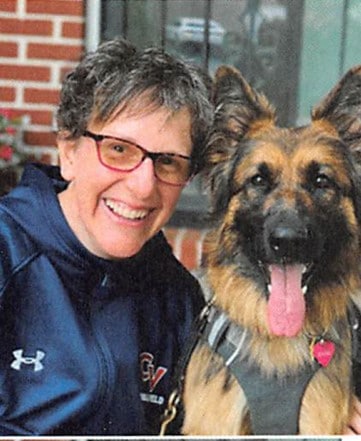 Pennsylvania resident Laura Judy "always tries to focus on the positives." She is married with two children, a 14-year-old son and a 12-year-old daughter. Laura graduated with a degree in biology, and her career has continued to reflect this interest. She partnered with "Lyla," her second Fidelco guide dog, in 2021 and describes her as "extremely dedicated and loyal."
Laura is a Quality Assurance Auditor for a biotech company that develops oncology drugs and is responsible for ensuring all company procedures adhere to FDA guidelines. She was previously employed at a biotech company for many years as Principal Specialist Quality Compliance for drug and surgical device development and also helped train new employees.
While working from home during the pandemic, Laura is determined to keep Lyla active. The team goes for daily walks, and Lyla accompanies Laura to watch her children's frequent after-school activities. When taking the bus or Uber to appointments or the gym, Lyla is her devoted partner.
Because of the pandemic, Laura hasn't been able to do the volunteer work with Lyla that she loves—visiting schools, eldercare facilities, and nonprofit organizations and explaining and demonstrating the work of guide dogs. She reflects that when she needed help, people helped her, and it's now her turn to reciprocate through her volunteer work. Laura says that her Fidelco guide dog partnerships have "changed my life for the better."
---
More Fidelco News